Off-Cycle Pay Requests
Guidance on processing off-cycle payroll requests. Including roles and responsibilities for Department/Service Channels, Payroll, and UCPath Center.
Department/Service Channel
Identifies the need for and submits an Off-Cycle Pay Request

Monitors transaction using the Off-Cycle Dashboard
Payroll
Validates Off-Cycle Pay Request to ensure criteria met for request
UCPath Center
Validates Off-Cycle Pay Request and calculates pay
---
Pre-Process
Be aware that certain criteria must be met before submitting an Off-Cycle Pay Request. Below is a list of acceptable and unacceptable criteria:
Acceptable
Time not submitted due to department oversight

Hire transactions not entered in UCPath in time

Missing significant regular pay

Final Pay for:

Voluntary or involuntary terminations represented employees

Involuntary terminations for non-represented employees

Financial hardship

Adherence to legal contract or agreement
Not Acceptable
Local deduction refunds

Correction for hours paid to incorrect job

Retroactive pay due to:

Promotion

Mass wage increase

Lump sum payments

Premium pay

Overtime

Shift differential

Other pay not included in regular pay

Additional pay such as

Bonus, relocation incentives, stipends, awards
If the request does not meet the criteria for an Off-Cycle Request, consider submitting an Off-Cycle I-181 (for hours adjustment) or an Off-Cycle I618 (for flat pay adjustment).
---
​​​​
Process Steps to Submit an Off-Cycle Request
Navigate to the Self-Service Transaction Links page:
Navigation: PeopleSoft Menu > UC Customizations > UC Extensions > Self Service Transactions Links
From the Self-Service Transaction Links page, click the Payroll Request link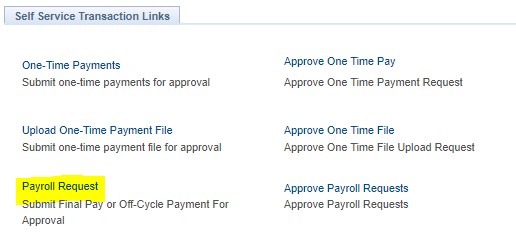 On the next screen, there will be a drop-down field. From this field, select Off-Cycle

The Reason field and search criteria will appear. Choose a reason code to further categorize your request.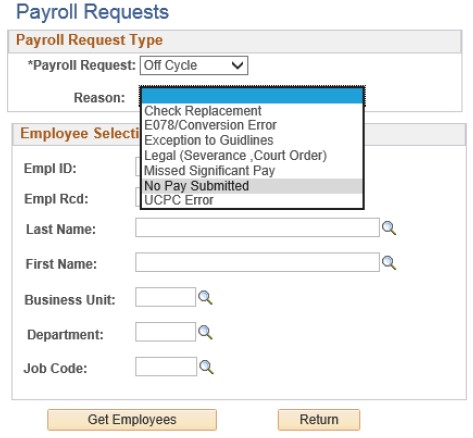 Refer to the Submit Off-Cycle Pay Request UPK for step-by-step instructions on entering information in this transaction.
Use the correct Earn Code for the missing pay

Submit hours on a day-by-day basis instead lump hours to allow applicable accruals to calculate accurately
Note: Any hours submitted via E-078 should match hours entered in time and attendance for historical records but should be flagged NOT to submit to I-181
Provide specific details in the Comments section to convey the additional details if needed
---
Other Considerations
Ensure that Job Data has correct comp rate BEFORE submitting an Off-Cycle Request or transaction will not be able to be submitted

Do not submit an off-cycle request for a pay period during pay confirm process

Confirm if criteria met

Use the Off-Cycle Dashboard to track your requests