Updated UCPath CBR rates uploaded on July 11th, 2019 at 12:55pm (PST).
For latest UCPath CBR update Information
Click Here
UCPath will standardize the process for charging CBR and assessing vacation costs across all UC campuses.
---
Key Changes
Effective July 2019, UC Davis will implement the UCPath CBR.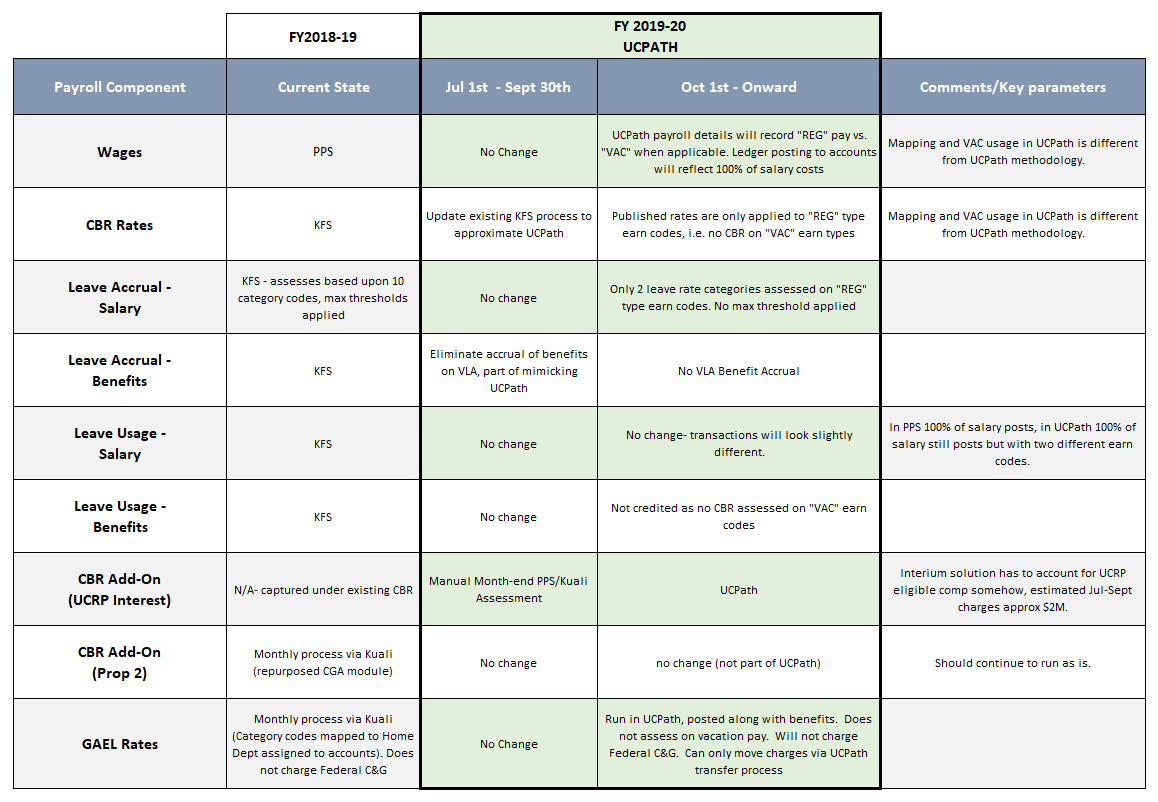 (Updated 6/26/2019)
Full Benefit Eligibility

Proposed FY 19-20 UCPath Rates

HCOMP Faculty, SOM Physicians & SMG
Nurses & Other Physicians
Faculty, Other Academic Appointments, MSP, Fire and Police
All Other Staff
Service Staff
25.5%
34.2%
38.5%
53.1%
66.2%

Non-Full Benefit Eligibility

 

Postdoc Employees
Faculty Summer Salaries
Grad & Undergrad Students
Employees with Limited Benefit Eligibility
Employees with No Benefit Eligibility

25.9%
10.3%
1.9%
17.4%
3.6%
Postdoctoral Mitigation Plan
The UCPath change to the Postdoctoral Employees CBR rate has been identified as a significant change and challenge to the CBR process. UC Davis will implement a mitigation plan on the change to the Postdoctoral Employee CBR rate, effective July 2019.
Fiscal Year 2019-20:


Campus will provide funding to cover the full cost of the 8.6% increase for all Postdoc Employees.

Fiscal Year 2020-21:


Campus will provide funding to cover 50% of the increase, or 4.3%, of the CBR rate for Postdoc Employees.

Fiscal Year 2021-22:


No additional bridge funding will be provided and units and PIs should have adjusted their expenditure plans to accommodate the full CBR change.
GL Process:
The full approved CBR will continue to be assessed to all Postdoc Employee salaries.

The campus will run a monthly process to rebate all fund sources for 8.6% or 4.3%, depending on the year, of all Postdoc Employee CBR Costs during the fiscal period close process. 
Employee CBR Groups
The majority of the employee groups available in UCPath were predetermined; however, UC Davis was able to modify a few of the standard UCPath employee groupings based on a limited number of employee characteristics available in UCPath to fit our local needs.
CBR charges
UCPath will assess the CBR charges utilizing a different assessment base than what UC Davis currently uses in KFS to assess the CBR.
Currently, in KFS, the CBR is charged to the full annual salary; however, in UCPath, the CBR will only be charged to productive (non-vacation) time worked. Therefore, in UCPath, when an employee is on vacation, the CBR charge will not be assessed. 
---
Vacation
Vacation Leave Assessments (VLA)
In KFS, the vacation assessment is a specific identification of the vacation amount earned by each employee individually, taking into account the annual vacation benefits the employee receives and the amount accrued by the employee in the pay period. In KFS, there are six different accrual rates depending on the number of vacation hours an employee accrues each year.
In UCPath, the VLA is a federally compliant assessment rate that accrues the total amount that is funded into the liability pool by consistently applying a standard rate across all fund sources. UCPath allocates all fringe benefits, including VLA, on the basis of entity-wide salaries and wages of the employees eligible to receive the benefits. UCPath has three accrual rates: one for non-accruing faculty and staff, one for accruing faculty, and one for all other accruing non-faculty academics and staff.
In UCPath, the assessment for vacation benefits will be eliminated. Currently in KFS, we accrue for the VLA salaries and also apply the employee's CBR rate to accrue for the benefits. This additional assessment (8551) will be eliminated in UCPath.
Current UCPath VLA rates 
 
| | |
| --- | --- |
| Non-Accruing Faculty and Staff | 0% |
| Accruing Faculty | 6.5% |
| Accruing Non-Faculty Academics and Staff | 8.3% |
---
Other UCPath Assessments in UCPath
UCRP Supplemental Assessment-Interest
This supplemental interest assessment was previously included in the CBR rates, but the Federal government has determined that the interest portion of the assessment is unallowable to federal funds and must be removed from the CBR. This is separate from the CBR Add-on (object code 8510) that is currently in place and will continue. This new assessment will be recorded in object code 8690 and will be assessed on all non-federal fund sources based on the individual's UCRP covered salaries, including the non-productive/vacation time, unlike CBR and VLA. The assessment rates are determined by UCOP.
GAEL
In KFS, there were three different object codes, 7930, 7935, and 7940, that were used to capture the GAEL assessment; however, in UCPath, GAEL will be recorded to a new object code, 7951, and will be charged against all non-federal fund sources. As this assessment will occur in UCPath, it will post to the ledgers at the same time that the individual pay occurs. In UCPath, if a Direct Retro (new name for the Salary Expense Transfer "SET") is processed, the related GAEL charges will move with the salary.