UC Davis' Budget Model for Revenue Allocation
The core of support for the university's instructional mission has historically come from what the university has called general fund revenue—a combination of state unrestricted funds and tuition support.
Other funds are similarly unrestricted and used for the University's teaching and research mission.  In allocating these funds to units, the campus must consider how these funds come to the campus and how they are used across the campus in order to appropriately align needs and resources.
Between 2012 and 2014, the campus transitioned to a budget model that is a hybrid of formulaic allocations for a number of specific funding streams and budget decisions made by leadership and not based on formulae. Key budget model principles are: 
Create incentives to advance campus goals

Improve transparency

Simplicity

Balance local autonomy with campuswide vision

Incorporate transition strategies
The revenue allocation component of the budget model provides academic and some administrative units with funding based on specific revenue streams and metrics. The allocation methodology and metrics used varies by revenue source and allocations are provided to the Deans who make resource decisions within their school or college. Budget decisions, on the other hand, provide funding through strategic leadership investments choices made through the campus budget process and come from central campus resources.   Depending on the type of business done in each unit, a unit may receive funding through both budget model allocations and the budget process or only via the budget process.
Below is a graphical representation of the budget model funds flow by source and spending authority.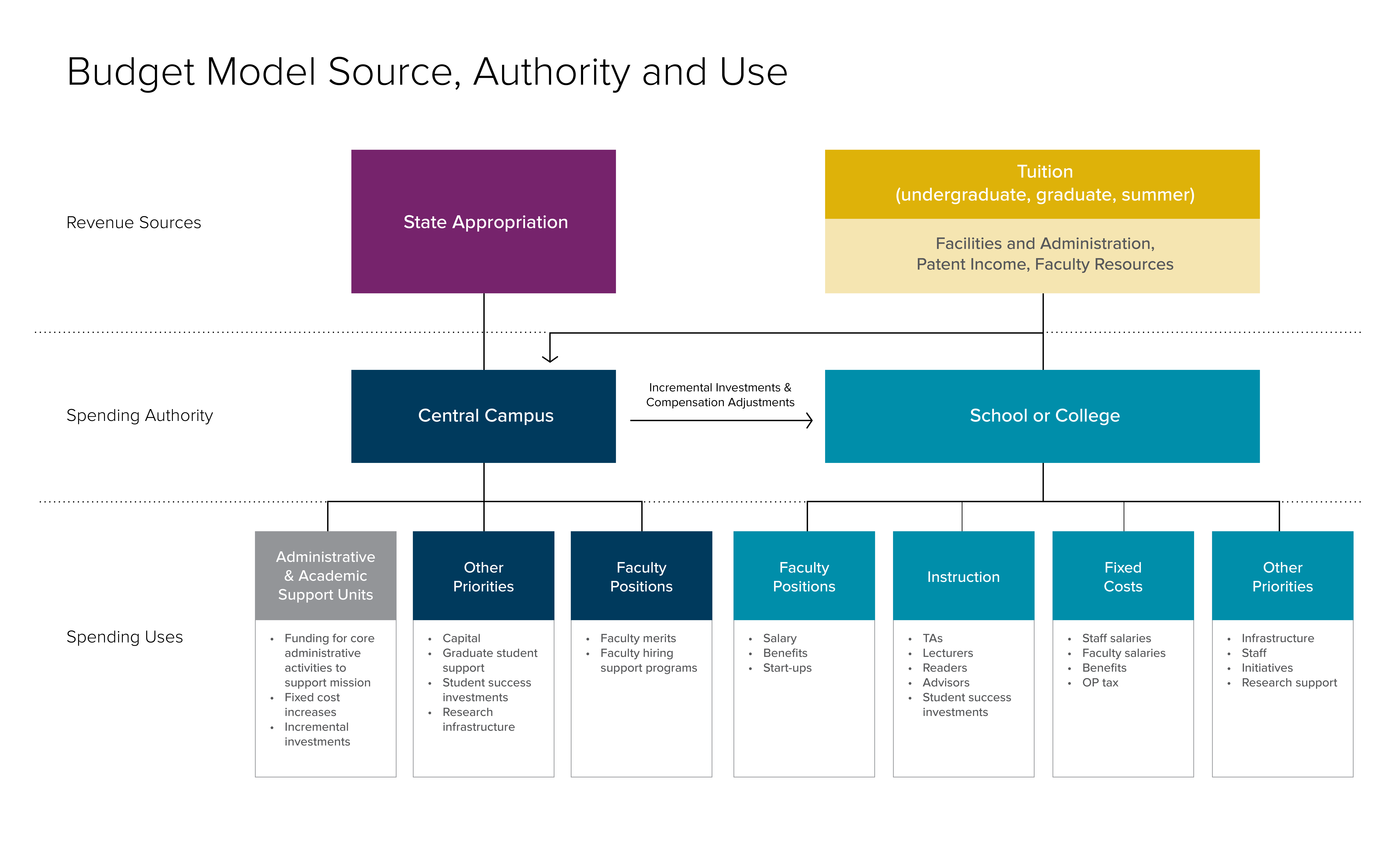 > Click to see full-size image
The UC Davis budget model is made up of 8 "modules," or formula-based allocations of specific funding streams, as well as the budget decisions made through the budget process.  The modules are listed in the box on the right and more information about the allocation process is available for each.
As part of UC Davis' continuing efforts to reduce complexity in the financial management of
unrestricted campus resources, in late 2021, Budget and Institutional Analysis (BIA) converted unit accounts associated with approximately 25 unrestricted funds to a single Common Operating Fund ("COFI"). This allows units to use funds flexibly while not changing budgets, budget decisions, allocations methods, or information provided about allocations.  More information about these changes is available on the COFI website.
For more information, contact the Budget Office.