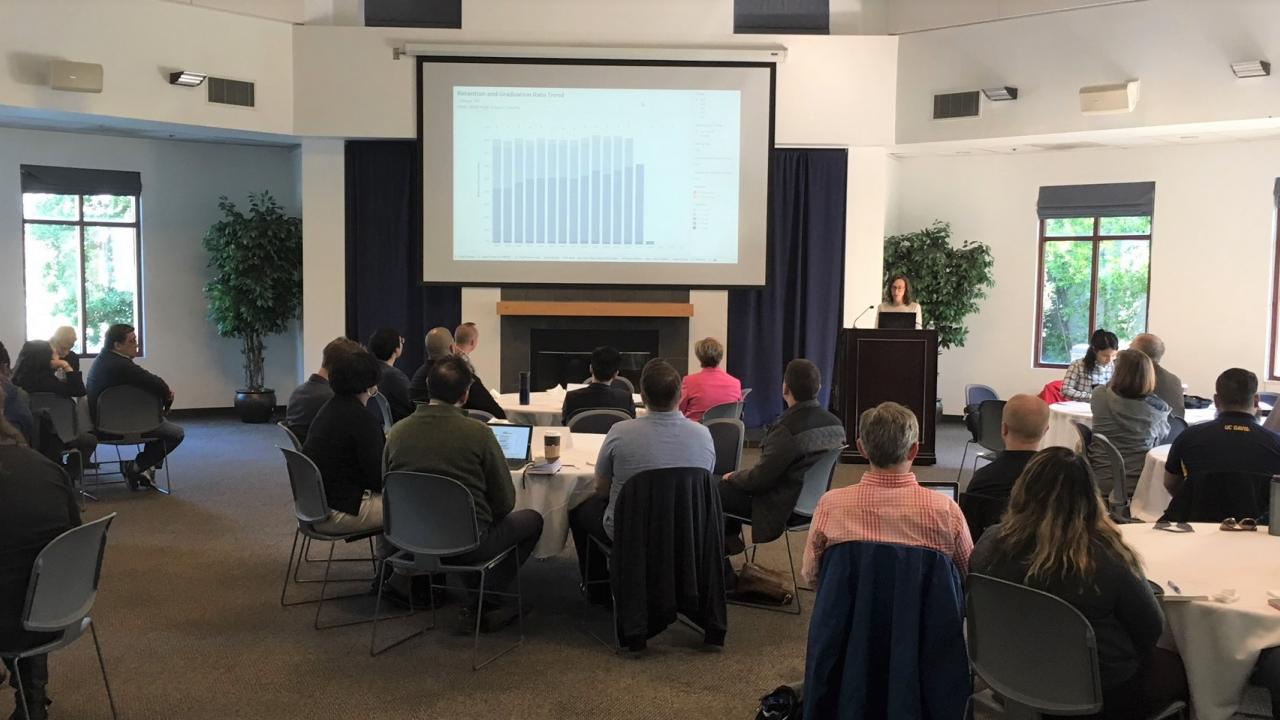 Presentations
Graduation and Retention Rates – Erika Jackson – Assistant Director, Institutional Analysis
Erika Jackson opened the March Data and Donuts with her presentation about Graduation and Retention Rates at UC Davis. With her analysis and visualizations, she tackled questions like, "How many years does it take an undergraduate student to graduate from UC Davis?" and "How many undergraduate students leave after their first or second year?".
Measuring the Economic Value of Research – John King – Director of Analysis and Policy in Graduate Studies
John King, Director of Analysis and Policy in Graduate Studies, spoke about his book "Measuring the Economic Value of Research." The book presents a new approach to assessing the economic impact of university sponsored research, using administrative microdata and tools from data science. The result is a new data architecture to assist decision making for universities and research funders, and to inform public policy toward science and innovation.
To view the presentation slides, please click here.
Web updates – Maksym Monastyrskyy – Business Intelligence Intern
We added several new sections all about AggieDash and Tableau. In addition, we included some information that you may find useful such as "How to set up DUO", and "Tableau Tips and Tricks". For all your questions related to AggieDash or Tableau, please feel free to explore the sections linked in the main navigation and give us feedback.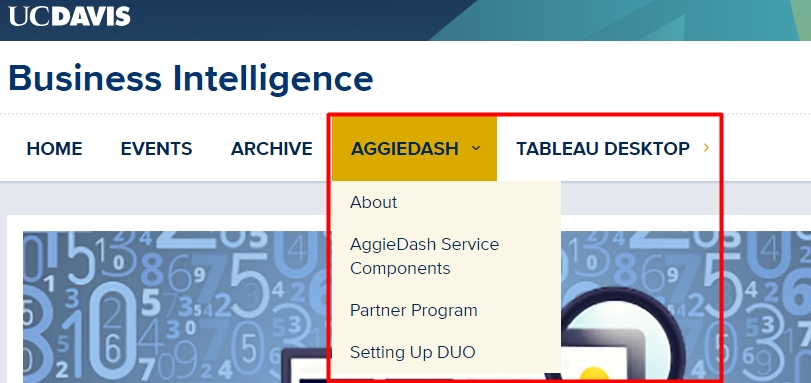 Breakout Session - All
To improve Data and Donuts and grow this community, we got into groups and discussed some questions aimed to guide Data and Donuts in the direction that best suits the community. Our  Here are the questions we asked during our group.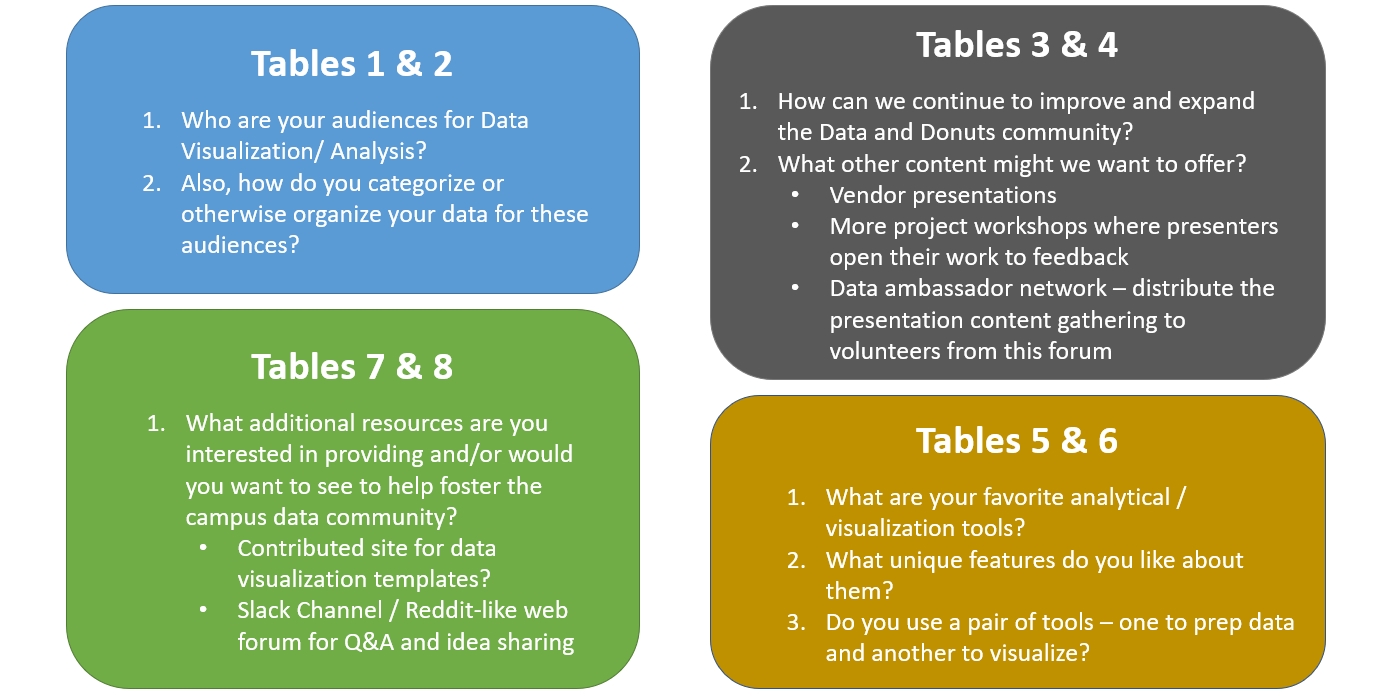 After some lively discussion, our attendees came up with the following great ideas and recommendations: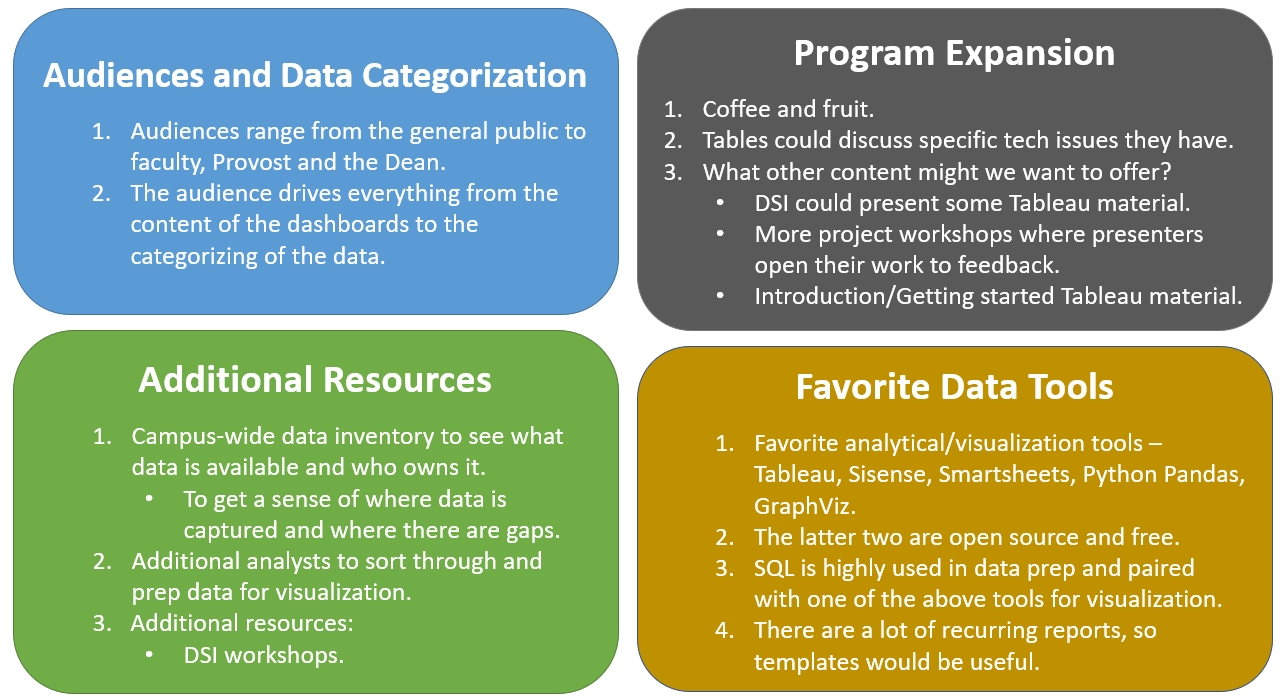 Note, during the breakout session, our attendees came up with a lot of great ideas that aren't included here. If you don't see your suggestion or would like to make another, please feel free to contact us at businessintelligence@ucdavis.edu.
Thanks for your participation!
Thanks again to everyone for coming to the March Data & Donuts and making this community great! Special thanks to Erika Jackson and John King for their great presentations about the use of data analysis in education. Also, special thanks to everyone for participating in our Breakout Session and generating some great ideas. We appreciate your feedback and hope to see you next time!
Event Category