The Change Network is a group of individuals engaged over the course of the Aggie Enterprise initiative to support change management efforts at UC Davis.
Led by the Aggie Enterprise Change Management, Communications and Training (CCT) team, the Change Network brings together individuals from colleges, schools and administrative units across the Davis campus, UC Davis Health and Agriculture and Natural Resources.
Members of the Change Network are dedicated to understanding and supporting the changes involved with Aggie Enterprise. They will represent their units in Change Network meetings and help build awareness within their organization by:
Serving as conduits of information, facilitating cascading communications
Acting as a liaisons between their colleagues and the project team
Identifying opportunities and risks with business process changes
Advocating for the change
If you wish to participate as a member of the Change Network, please contact us. The Change Network requires a commitment of approximately 2–5 hours per month. Prospective members are advised to check with their supervisors before volunteering to participate.
How does this community support change management at UC Davis?
As key collaborators on the Aggie Enterprise project, the Change Network works in partnership with the CCT Team, Project Team and Subject Matter Experts to facilitate change management and communication across the organization.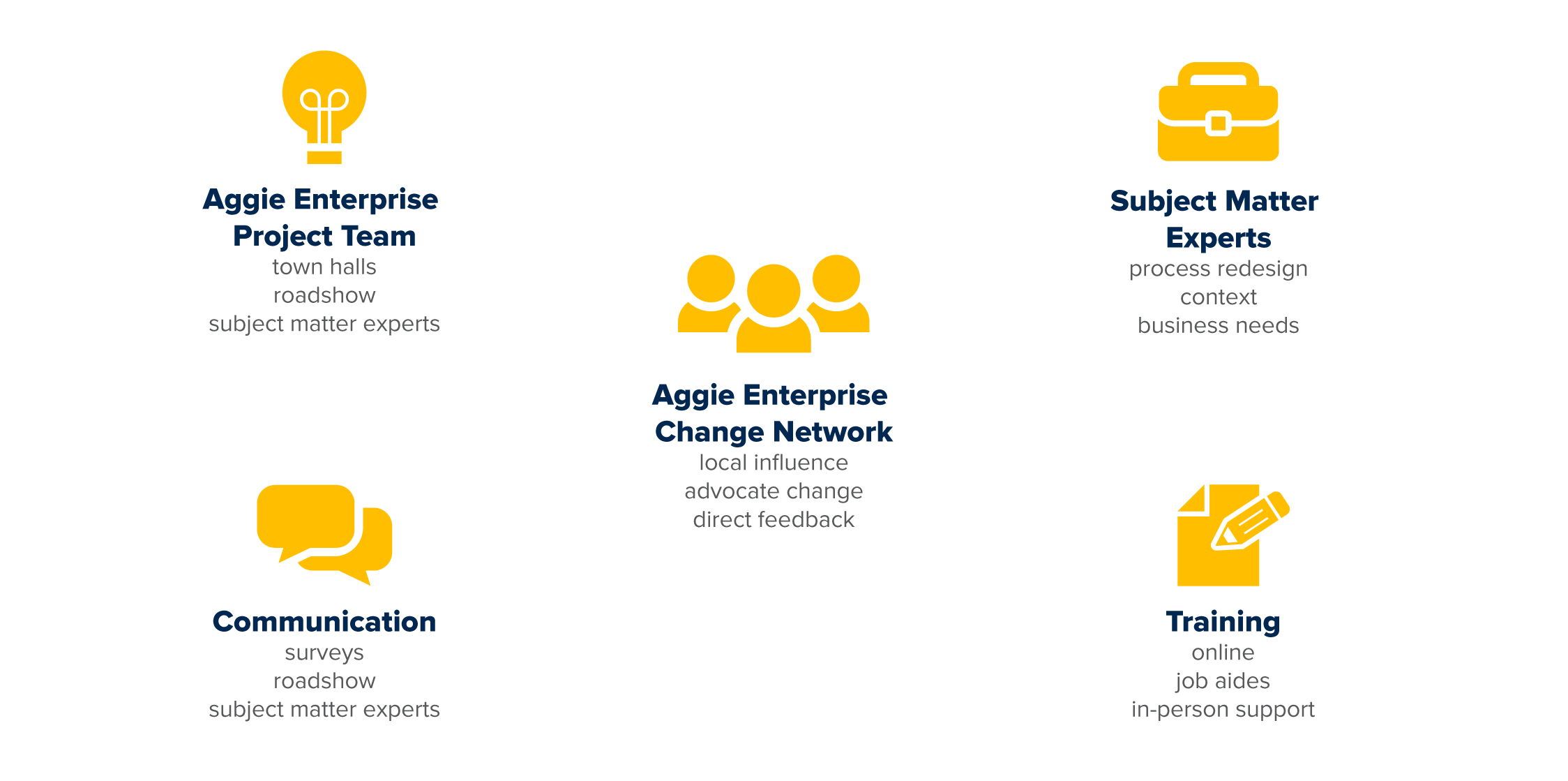 Change Management Graphic (PDF) | Text Alternative
Change Network Meeting Resources
Here you will find Change Network presentation materials and recordings of previous meetings. 
 
Change Network Meeting Date
Topics Covered
PPT Slides and Supplementary Materials
Recording
May 17, 2023
-Introduction to KFS Data Governance
-Super User Acceptance Testing (SUAT) 
-User to Role Mapping 
-Training 
April 19, 2023
-Timeline and CoA Training overview
-SIT3 exit
-Super User Acceptance Testing (SUAT)
-Change Readiness scores
-Resource Library additions: GLIDE demo, and Supply Chain Demo
Presentation
Meeting Recording (Zoom mp4)
March 15, 2023

-Timeline and Training overview
-User to Role Mapping activity
-Super User update  -SIT3 overview
-Change Readiness scores
-Resource Library additions: Work Stream Quick Reference Guide, and CoA Purpose Quick Reference Guide

 

Presentation
February 15, 2023

-SIT3 overview
-February Meeting in a Box - Town Hall highlights
-Updated Preparing for Oracle checklist

Presentation
Meeting Recording (Zoom mp4)
December 14, 2022

-Aggie Enterprise Year in Review
-Chart of Accounts go-live clarification 

-Change Readiness Assessment Q4 Results              

 

Presentation
Meeting Recording (Zoom mp4)
November 16, 2022
-General updates & announcements
-

Aggie Enterprise timeline extension


-November Meeting in a Box; focus on extended timeline
Presentation
Meeting Recording (Zoom mp4)
October 19, 2022
-General updates & announcements
-

Project Portfolio Management (PPM) overview


-PPM October Meeting in a Box
Meeting Recording (Zoom mp4)
September 21, 2022

-General updates & announcements
-Demo of Planning and Budget in EPM (Enterprise Planning Management) 
-Summer 2022 Change Readiness Scores
-September Meeting in a Box

Presentation

EPM Demo Questions and Answers
Meeting Recording (Zoom mp4)
August 17, 2022

-General updates & announcements
-Demo of procurement processes in Aggie Enterprise (high-level overview)
-Chart of Accounts Baseline Values
-August Meeting in a Box

Presentation
Meeting Recording (Zoom mp4)
June 15, 2022

-Testing Phase
-Faculty Project creation in PPM 
-Activity: What topics are you most interested in learning about at a future roadshow?
-Spring 2022 Change Readiness Assessment results

Presentation
Meeting Recording (Zoom mp4)
April 27, 2022

-Boundary Application introduction
-Cash Management in Oracle
-Accounts Receivable in Oracle
-Meeting-in-a-Box concept

Presentation
Meeting Recording (Zoom mp4)
February 23, 2022
-Build Phase Overview
-Processes in Scope
-Allocation of Funds (Spending Authority)
-Stratocore for Centralized Billing
-Centralized Accounts Receivables
-Preparing for Oracle activities
Presentation
Meeting Recording (Zoom mp4) 
December 15, 2021

-Design Sprint Overview
-PI Approval of Sub-Recipient Invoices
-Centralization of Invoice Processing
-Change Management

Presentation
Meeting Recording (Zoom mp4) 
October 27, 2021
-Change Network responsibility
-User Stories
-Chart of Accounts - Hierarchies
-Budget Vocabulary
-FIS-Decision Support retirement
Presentation
Meeting Recording (Zoom mp4)
August 31, 2021
-Aggie Enterprise overview
-Business Process Areas
-Timeline
Presentation
Meeting Recording (Zoom mp4