The Purchase Agreement (PA) document is used to create new purchasing agreements and to modify existing agreements already in KFS.
NOTE: Before creating a KFS Purchase Agreement, you should always check first to see if the requested item(s) are available in AggieBuy, the UC Davis e-procurement system.  If so, the transaction should be processed through AggieBuy and not on the KFS Purchase Agreement.
Contents:
---
1. Restricted Access
KFS Purchasing Training is required before creation access is granted to the Purchase Agreement document. The document will NOT appear on your KFS Main Menu until completion of your training has been recorded. Online training is available in the UC Learning Center (search on "KFS Purchasing Online" to locate and complete the training). Once you complete the training, access will be available to you the next business day.
---
2. Agreement Information Section
It is important to choose the correct type of agreement, using the drop-down list in the Agreement Type field.
Please note: a Blanket Agreement is the ONLY type for which a Requisition document can be created, resulting in a Purchase Order; payments can then be issued against the PO on a Payment Request document.
Blanket Agreement: Generally created for the establishment of an on-going product or service expense need exceeding $10K per year (e.g., department need to have lab cleaned on a biweekly basis)
Revenue Agreement: Created for an agreement that will generate revenue for the department/university
The No Cost Agreements listed below are used to facilitate the transmission of the specified vendor contract/agreement types for review and signature by a Procurement & Contracting Services buyer. Payment for No Cost Agreements is generally made on a document other than a Purchasing one, such as the Travel Visa card or a Disbursement Voucher with Payment Reason Code of Travel Expense Voucher or Entertainment Expense Voucher.
No Cost Agreement-Other: Generally processed when a vendor requires the signing of an agreement committing the university to specific terms and conditions (should ONLY be used if a more "specific" type is not applicable for the chosen agreement)
No Cost: Catering, Lodging Event Agreement: Used when you have a travel or entertainment transaction that needs a signature or an agreement for the vendor in advance, and will be paid after the fact through normal travel and entertainment methods (e.g., AggieTravel or Corporate Card)
No Cost: Facility Use Agreement: Use of facilities NOT related to travel and entertainment (e.g., when the athletics department uses outside sports facilities for training); there is a type for 30 days and under, and one for agreements lasting longer than 30 days
No Cost: Online Subscription Agreement: For use when you need terms and conditions from an online service reviewed by Procurement & Contracting Services prior to using that service.
No Cost: Non-disclosure Agreements: Use with non-disclosure/confidentiality agreements.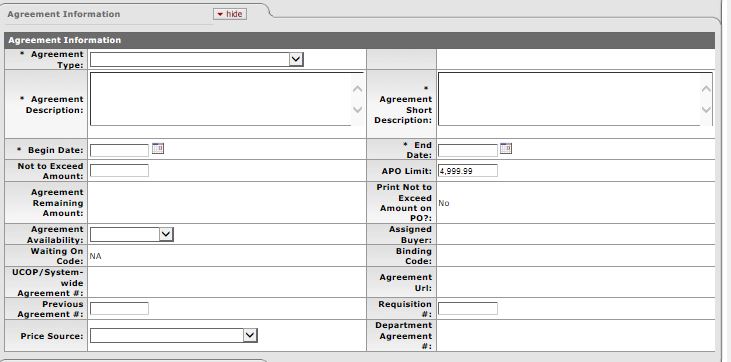 The Agreement Description and Agreement Short Description fields do NOT appear on the print-out of the Purchase Agreement (PA) document, but can be used for search purposes when doing a document search for PA documents. Entering the type of commodity and department in these fields can be very helpful; for example: "Gel Filtration Kits for Chemistry Department."
In the Agreement Availability field, department users should always select the Organization option. Any agreements being created specifically for a department fall under this category.
The Not to Exceed Amount field is used to identify the maximum dollar amount expected to be spent on the agreement. You may want to review past spending history of the specific commodity/vendor in FIS Decision Support (DS) to determine a "realistic" amount to indicate for this field.
The APO Limit field is used to identify the dollar limit for which a Requisition entered against the agreement will not need to route to Purchasing, and an Automatic Purchase Order (APO) will be created.
For example, if you enter an APO Limit of $20,000, a Requisition created for $15,000 against the agreement will create an Automatic Purchase Order (APO), while a Requisition created for $25,000 would route to Procurement & Contracting Services since the APO Limit was exceeded. The APO Limit field should NOT have a dollar amount greater than what is indicated in the Not to Exceed Amount field.
The Previous Agreement and Requisition # fields are generally not used by departments and can be left blank.
The Price Source field is used to identify where the quoted price came from.
---
3. Vendor Section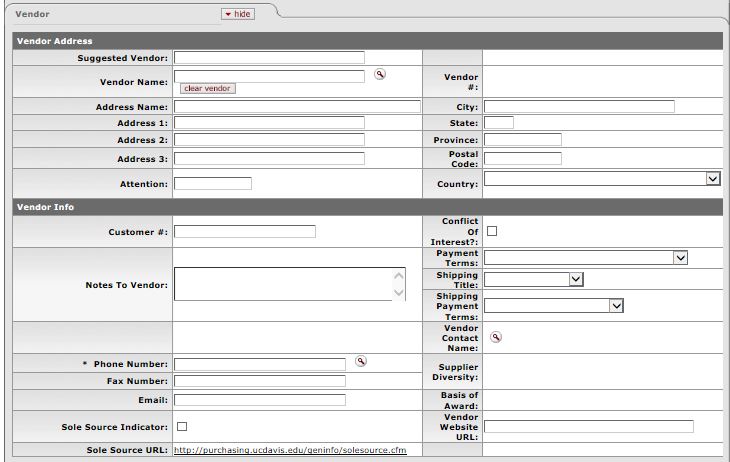 Need help locating a vendor? Or need to add a new vendor or update a vendor address? Refer to the Vendor resources on the Procurement & Contracting Services page on the Supply Chain Management website.
For Revenue Agreements, the Suggested Vendor field is used to identify the entity with which the university is setting up the agreement, in other words, the entity that will be paying the university for services rendered by the university.
---
4. Stipulations Section
 


This section is not used by departments and should be left BLANK.
---
5. Organization Code Restriction Section
 


This section is used to identify the specific organization(s) that can use the agreement.  In general, you should enter the highest-level organization for which the agreement should be used (such as the organization code for your Dean or Vice-Chancellor Office), and the agreement will then be available to the each of the organizations that report to it. Organizations NOT listed in this section will NOT be able to use the Purchase Agreement.
---
6. Agreement Details Section
 


This section is used to identify the commodity code(s) you wish to use for the agreement. Enter the specific details in the Line Desc field (manufacturer, model number, catalog number, etc.). The Line Desc field is expandable by pulling with your cursor on the dotted, gray, right lower corner of the box. The information in the Line Desc field will appear on the printed copy of the Purchase Agreement document.
There are five commodity codes just for use on revenue agreements:
REV00001, Revenue for services provided by UC Davis - testing/analytical
REV00002, Revenue for services provided by UC Davis - miscellaneous
REV00003, Revenue for salary and benefit reimbursement
REV00004, Revenue from sponsorships received
If you have questions on the appropriate use of these codes, please contact the Business & Revenue Contracts team. Don't forget to click the Add button after entering each commodity code line.
---
7. Commodity Code Restriction Section
 


This section should be used to enter the commodity code(s) you entered in the Agreement Details tab
---
8. Additional Institutional Information Section
 


The name and contact information for the person creating the document defaults in this section, but can be changed as necessary. Technical contact name and phone/email is required for Blanket and No Cost agreements.
---
9. Accounting Lines Section
 


An accounting line is required for routing purposes for the Purchase Agreement document. When processing a Requisition against the agreement, you can use any active and valid account; you are not required to use the account specified on the Purchase Agreement document. In general, most departments will use the same account on the Requisition that they used on the Purchase Agreement document.
Special Note on Revenue Agreements: Accounting line must indicate an INCOME object code, and the account must be appropriate for income, such as an account assigned to Sub Fund Group Code of SSEDAC - SALES AND SERVICE OF ED ACTIVITY.
---
10. Notes and Attachments Section
 


Any supporting notes and attachments (price quotes, blueprints, etc.) should be added directly to the document in the Notes and Attachments section. PDF versions are recommended.  If processing a revenue agreement, attach the rate sheet/approval letter, along with a complete scope of work, the number of hours, and the exact rate for which you are charging services.
---
11. Purchasing Services
Purchasing services can be a very different process from purchasing goods. There are usually different requirements for supporting documentation and other   information needed by Procurement & Contracting Services.
---
12. Processing Purchases and Payments against a Purchase Agreement
Purchases are processed on the KFS Requisition document. See the Help page for instructions. 
Please note that it is not possible to process Requisition documents against Purchase Agreements with a CLOSED status or a Purchase Agreement past the Agreement End Date. Payments CAN be made against open Purchase Orders that were created prior to the closure of the Purchase Agreement document.
---
13. Printing Purchase Agreement Documents
Procurement & Procurement & Contracting Services will print the original copy of the Purchase Agreement document. End users do, sometimes, have the option to do a re-print (not an original) of an agreement. The user who wishes to print the PA document needs to be in the PA routing log in order to have the re-print button appear.  
---
14. Renewing an Agreement
Locate the agreement by going to the KFS Main Menu and clicking on the Purchase Agreement link from the Lookups section.
After locating the agreement, click on the Amend button at the bottom of the document to make any necessary changes to the agreement, including extending the end date.
The amended agreement will route in the same fashion as did the original Purchase Agreement.
---
15. Locating Campus and UC System Agreements
From the KFS Main Menu in the Purchasing/Accounts Payable section in the Lookups section, click on the Purchase Agreement link.
Change the Application Document Status field to OPEN, so you will only return active and open agreements for which Requisition documents can be created.
In the End Date From field, enter the current date in the following format with the "greater than" symbol: >xx/xx/xxxx .  This will ensure that you only retrieve agreements that are still active for processing Requisition documents.
In the Agreement Availability drop-down field, select System-wide if you want to see UC agreements available to all UC campuses, including UC Davis; select Campus if you want to see agreements available for UC Davis departments.  If you don't select an option in the Agreement Availability field, you will receive more results than can be displayed by KFS.
Note: If you want to see agreements set up specifically for your organization, enter your organization code in the Organization Restriction field, and you will return agreements set up specifically for your organization.
---
16. Travel Expenses for a Vendor Providing Services
Do you have an independent contractor, consultant, or other vendor providing services who will be billing a component for travel expenses? The proper way to handle this is to add a line to your Requisition (REQS) or Purchase Agreement (PA), using the same commodity code you are using for the service itself, and enter a description indicating that the line item is for travel expenses. This will ensure that all expenses associated with that service get reported appropriately as part of that service.
AggieTravel is generally used for employee reimbursements for travel and entertainment, and the TEV or EEV payment reason code on the Disbursement Voucher (DV) can be used for similar expenses paid directly to a vendor (e.g., paying a hotel directly for a conference fee, rather than reimbursing an employee). But, when paying a vendor for general services which includes some component of travel, it is best done on a Requisition (REQS) and paid through the Payment Request (PREQ).
---
17. Why Isn't My Agreement Appearing When I Attempt to Process a Requisition Against It?
The Agreement # lookup on the Requisition document retrieves information from the Agreement Number Lookup screen. It ONLY retrieves agreements for which a Requisition can be processed. In other words, any of the No Cost Agreement Types mentioned above will NOT appear when performing a search since there shouldn't be a Requisition created against these agreement types.  In most cases, payment for a No Cost Agreement is made in a different fashion, such as with a Travel Visa Card or a Disbursement Voucher document in KFS.