Lean Six Sigma Green Belt Program
2021 Lean Six Sigma Green Belt Program
Applications are now being accepted for the 2021 cohort; Thursday, April 22, 2021 is the final day to submit.

Join us on Thursday, April 8 at 11:00 am for a hosted information session, please register in advance. If you are unable to attend, we will record the session and post it here. Questions about the program or application process should be directed to Erica Aichwalder.
Benefits
Participants in the Lean Six Sigma Green Belt training program can expect the following outcomes:
- Immediately apply the established Lean Six Sigma principles to a real-life project; project creates and expected hard or soft cost savings for UC Davis
- Receive guided mentorship from a Lean Six Sigma Black Belt and Lean Leader
- Learn to implement Lean Six Sigma directly into the workplace; address quality and waste issues such as defects, cycle time, variability, etc.
- Enhance the organization's ability to overcome challenges by applying Lean Six Sigma's proven techniques and strategies
- Receive a Lean Six Sigma Green Belt Badge from UC Davis Continuing and Professional Education, recognized globally as an indicator of mastery of LSS expertise. The badge is a digital credential, authorized by Credly, host of the largest, most-connected digital network and trusted by leading global organizations.

In addition to the outcomes described above, participants will also benefit from the networking and career growth opportunities that come from training alongside their peers in the UC Davis community.
Course Logistics
Kicking off May 26, 2021, the Lean Six Sigma Green Belt training will run 15-weeks; please note there will be a 2 week pause in live sessions to accommodate fiscal-close/year-end activities. Cohort size limited to 20 participants; applications will be processed as they are received and require endorsement from supervisors or department leadership.

Time Commitment
Participants should expect a mix of synchronous and asynchronous learning using virtual modalities for a time commitment of roughly 40 hours, to include:
- Bi-weekly 1/2 day live, synchronous learning workshops (total of 25 hours over duration of program)
- 12 hours of self-study completed between workshops
-  3 hours of attending project presentations and phase gates

Live Session Schedule
Wednesday, May 26 9:00 ,am - 12:00pm Kick-off
Wednesday, June 9 10:00 am - 2:00 pm (30 minute break at noon)
Wednesday, June 23 10:00 am - 2:00 pm (30 minute break at noon)
Wednesday, July 14 10:00 am - 2:00 pm (30 minute break at noon)
Wednesday, July 28, 10:00 am - 2:00 pm (30 minute break at noon)
Wednesday, August 11, 10:00 am - 2:00 pm (30 minute break at noon)
Wednesday, August 25, 10:00am - 12:00 pm Project Preparation
Wednesday, September 1, 9:00 am - 12:00 pm Final Presentations

Cost
Campus will provide 50% scholarship ($1718.00) to staff accepted into the 2021 cohort; home department will contribute the remaining 50% ($1,718.00)

Requirements to obtain Lean Six Sigma Green Belt Badge
- Attend all live sessions
- Complete Knowledge Assessments with a passing score of 75%
- Actively work on and complete one project
- Present project 
Who should attend? 
UC Davis staff, responsible for managing or participating significantly in any business process activities including managers, professionals and front-line staff. Process owners, functional owners, department leaders and team members from UC Davis campus and Health are welcome to apply. 
Apply
Applications will be accepted thru Thursday, April 22, 2021, for questions about the application process or program in general, please contact Erica Aichwalder. Staff interested in the Lean Six Sigma Green Belt program must apply and receive endorsement by their supervisor or department executive. Upon submission of information, applications will be automatically routed for endorsement, please ensure that supervisors and/or department executives are aware of interest in participating in the 2021 Lean Six Sigma Green Belt cohort. 

 
History
At UC Davis we strive to embrace a culture of continuous improvement. One of the ways in which we support that culture is thru the adoption of the Lean Six Sigma (LSS) methodology. LSS relies on a collaborative team effort to improve efficiency and remove waste in our processes.  In effort to provide appropriate tools and resources to empower staff to drive toward excellence, UC Davis brought Lean Six Sigma Yellow Belt to campus in January 2019. Interest spread and individuals enrolled by the dozens, some departments started training entire teams and by January 2020 more than 1,300 staff were trained Yellow Belts.
With the support of leadership and in partnership with Continuing and Professional Education we leveraged momentum from Yellow Belt to pilot a Lean Six Sigma Green Belt program. UC Davis leadership nominated twenty individuals from academic, administrative and Health departments to participate in the inaugural cohort. In August 2020, the newly badged Green Belts delivered action plans to refine university business processes by eliminating hand-offs, reducing cycle time, increasing information security and decreasing unnecessary approvals. In time, these projects have the potential to save the university hundreds of thousands of dollars.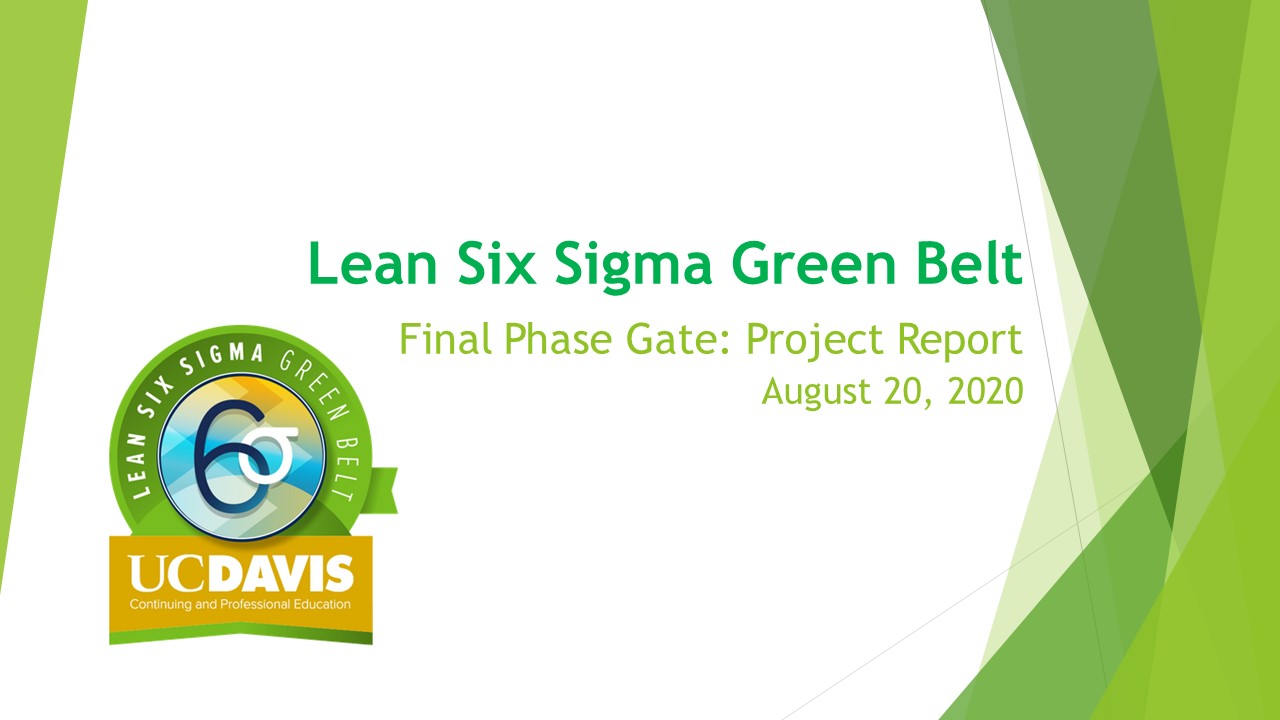 2020 Lean Six Sigma Green Belt Cohort
Summary of the Final Phase Gate from the 2020 LSS Green Belt cohort, including participant names and identified process opportunities. 
Future 
UC Davis recognizes the significance of a program that provides staff the knowledge and tools to encourage a culture of service excellence, continuous improvement, and empirically based decision making. The Budget Framework Advisory Committee views Lean Six Sigma as a strategic initiative to assist campus in meeting goals for financial sustainability. Campus leadership champion the methodology and are committed providing additional opportunities for staff to become Lean Six Sigma Green Belts.