AggieBudget is once again available for use: 
Plan File Manager is now open for FY 20-21 Preliminary Budget planning
UCPath data conversions have been implemented: labor data uses UC Path data instead of PPS
Reports have been updated to include forecasting
Plan File Managers may now use the PFM utility to make changes for the FY20-21 budget cycle. If you think you should have access but can't open Plan File Manager, please check the user report to see your status.
Web Reports upgraded to allow for the Forecast version:
Drill 
Monthly Variance
Sources & Uses
12 Month Projection
Annual Budget Report
Org Comparison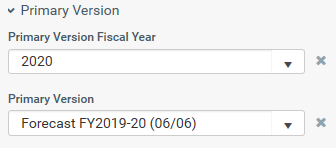 The 3 Year Sources & Uses report (desktop) has also been upgraded to allow for the Forecast version. (For more report details please see Aggie Budget Report Status.) In the reports, none of the default versions changed, but here's a look at the new forecast version in the filter. The 06/06 refers to 6 months of actuals (JUL–DEC) and 6 months of planned amounts (JAN–JUN) that make up the forecast.
Please let us know if you have any questions or need help with access.
Thank you.
The AggieBudget Team
aggiebudget@ucdavis.edu
Aggie Budget Report Status 
Tags